Albrecht Maurer
0173 7105364
please check out:
Syntopia.net presents more projects created with and by Albrecht Maurer www.syntopia.net

curator:

Internet Stream:
Interview / film
string instruments new and old: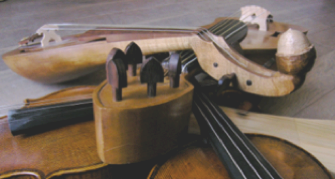 Albrecht Maurer plays a violin and a viola built by Falk Peters, and a gothic fiddle and a rebec built by Thilo Viehrig. The fiddle and the rebec are reconstructed with the help of ikonographics and historical sources from the 13th century.
watch recent trailer:
Dialogos will release a new CD including an iBook and video material about Barlaam & Josaphat in spring  2019 on Alpha records.
Albrecht Maurer is part of the new collective Beyond The Roots, a new concert series is starting this spring. 
All concerts will be at "Altes Pfandhaus" in Cologne.
http://www.beyond-the-roots.de
BR-Klassik live stream,  concert series PASSAGEN 
Il Lusorius - Der Duft der Kindheit (the flavor of childhood)
in summer 2014 Joachim Richter interviewed and filmed Albrecht Maurer. The result is a  film with interesting statements about his work and with his composition  "Lola rent ... nicht immer" click for more.
recent releases

Fly to Alhambra, a composition by Albrecht Maurer, is the point of departure in this program for a journey through space and time. Flamenco, Balkan folklore and timbres of the silk road combine with virtuosity in Maurer's music to form a unified tonal language.
Kerstin de Witt - recorder
Albrecht Maurer - fiddle, frame drum, voice


The 2nd release of Theo Jörgensmann and Albrecht Maurer on Nemu Records is available now at Nemu Records
Theo Jörgensmann – clarinet
Albrecht Maurer – viola, voice

fantastic jazz musicians came together to play and record this album , released on  German based label Jazzwerkstatt. It was recorded at Multiphonics Festival 2016 in Frankfurt and  it has a bonus-track from a concert at Jazzschmiede Düsseldorf.
Perry Robinson
Gianluigi Trovesi
Theo Jörgensmann
Bernd Konrad 
Günter Sommer
Albrecht Maurer
Sebastian Gramss 
Annette Maye.

The Reviere Ensemble Oratories and Songs
Music by Kent Carter, featuring Laura Tejeda Martin is released at Emanem in London.
Laura Tejeda Martin - voice
Christine Bopp - trombone
Albrecht Maurer - violin
Katrin Mickiewicz - viola
Kent Carter - double bass

Fantasm
Albrecht Maurer - violin
Mat Maneri - viola
Lucian Ban - piano


Albrecht Maurer - violin, viola, voice
Norbert Rodenkirchen - transverse flute, alto flute
nominated for the  Price of the German Record Criticism
here a review by Glenn Astarita in All About Jazz